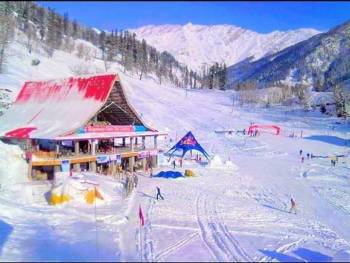 After breakfast, it's time to visit Solang Valley. On the way to Solang Valley visit at Bahang Village, Nehru Kund, Hanuman Temple, Palchan Village and arrive at Solang Valley. The Valley is known as an adventurous activities hotspot, one can enjoy some activities like Paragliding, Horse Riding, Quad Bike Ride, Skiing, Tube Riding, and many more. (snow activities are possible only during snow). In the evening, back to the hotel, have dinner, and rest overnight.
➢ You can also enjoy a short trek to Anjani Mahadev.
Add on: Atal Tunnel (Rohtang Tunnel) and Beyond: The tunnel is a few kilometers from Solang Valley. You can add this place to visit on the same day as Solang Valley. The places to be covered are Sissu Lake, Raja Ghepan Temple along the tunnel.
Add on will be on extra charge Rs. 2,500/-
Information: During snowfall, these sightseeing points will be covered if weather and road conditions are clear and if the vehicle can reach there. During this condition, sightseeing will be covered up to the Barrier Point set by the local administration