* Mentioned prices may vary depending upon date of travel, hotel availability, surge pricing and seasonal rush.
Dehradoon - Yamunotri - Gangotri - Kedarnath - Badrinath Tour Overview
Tour starts from the capital of Uttarakhand, the queen of the hills, Dehradun. These four different pilgrim destinations, the CHARDHAM, situated in the magical Himalayas, joined by mysticism and spirituality, Beckon millions of visitors every year for a voyage into the unknown, for a flight towards the heavens, for a journey into these self..

As one of the spiritual tour, Chardham Tour carries a lot of devotion. This holy expedition of sacred places in India includes the visit of four shrines, namely Yamunotri, Gangotri, Kedarnath and Badrinath Dham. Visiting these four sacred places together is called Chota Char Dham Tour, which is located at the Himalayan foot hills of Uttarakhand. The Chardham tour begins from Haridwar, which is the perfect gateway to reach Uttarkashi for Yamunotri, Gangotri and Kedarnath shrine, followed by a visit to Badrinath temple. Let us explore the Chardham tour:

Gangotri Temple:
It is the place known for the holy river Ganga's origination. According to the myth, King Bhagirath brought Ganga down to the earth. Every year thousands of visitors come to this place to get rid of their sins and recovery from bad health. It is said that Gangotri temple was made in the 18th century and the temple is made of white Granite.

Yamunotri Temple:
Being located at the elevation of 3164 meters, it is not less than bliss for the pilgrimage. Yamunotri Dham temple is situated at the river Yamuna, where devotees find both the temptation of cold and hot environment. The purified atmosphere of Himalayan gets chilled with cold tides of river Yamuna. The most amazing fact is, sides of Yamuna remains warmer, due to the thermal springs, which are also known as Goddess Shakti Kundas.

Shri Kedarnath Temple:
At an elevation of 3584 meters, you would find Kedarnath Temple above the sea level that flank around the river Mandakini. This place has one of the 12 forms of Lord Shiva as "jyotirlingas", which was dropped on the hills of Mandar (The main location of temple). The temple has been constructed by AdiShankaracharya and named it as of the name of King Kedar. Idols from Shri Kedarnath Dham are brought to Ukhimath, during winters and worshipped for six months.

Shri Badrinath Temple:
Being elevated at the height of 3415 meters, this temple is situated in Garhwal Hills on the bank of the Alaknanda River. This sacred place is known for the devotion to Lord Vishnu. According to the myths, Lord Vishnu used to meditate under the Badri tree at this place. Hence, the name of this temple was given so. The idol of God Badrinath is made of Shaligram statue, in a meditative pose. As per the saying, Adi Shankaracharya made this temple in the 9th century. People can get the ultimate peace of mind by experiencing the spiritual temptation of Chardham Tour.
Devotees across the world come for Chardham Yatra to get into the eternal bliss. You can check numerous Chardham Tour package available on the web at affordable prices by the professionals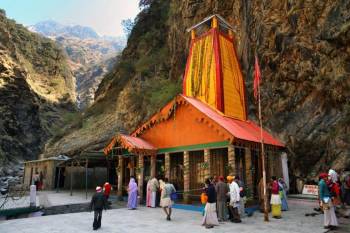 07:00 AM DEPARTURE S'DHARA HELIPAD , DEHRADUN
07:45 AM ARRIVAL KHARSALI HELIPAD, YAMUNOTRI
Passengers are requested to reach state government helipad on Sahastradhara Road, Dehradun which is the starting and ending point of this yatra. Vehicles are arranged for pick up.
Our pilots and ground staff will brief the guest about the entire trip and do's and don'ts. Breakfast will be arranged at Kharsali and passengers are supposed to leave their hotel early at Dehradun / Haridwar.
Upon arrival at Kharsali (The helipad for Yamunotri) passengers are welcomed by Heritage Aviation (HA), ground staff, who will unload their baggage and carry it to your hotel.
Temple is a 6 KMS trek which will be cover by palki. Total journey will take approx. 5 hour 30 min.
Generally passengers will return to hotel by lunch time. After rest, We do visit to Shani Temple which is near to your Hotel.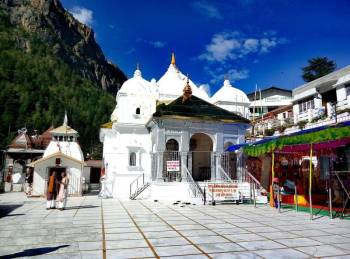 07:45 AM DEPARTURE YAMUNOTRI HELIPAD
08:30 AM ARRIVAL HARSIL HELIPAD, GADGETRY
Harsil is one of the most beautiful and picturesque Valley in Uttarakhand and also known for mini Switzerland. Gangotri temple is approx. 22 Km from Harsil helipad. Total drive time will be approx. 50 Mins. Stay will be arranged at Himalayan Nature resort which is around 2 KM away from Helipad. We provide all the basic and leisure facilities for tourists such as a premium accommodation with ensuite washrooms, delicious vegetarian food, Short walks, local sightseeing along with evening bonfire at Gangotri Valley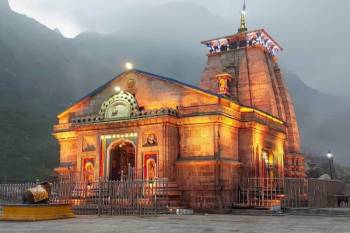 09:00 AM DEPARTURE HARSIL HELIPAD, GANGOTRI
10:00 AM ARRIVAL KEDARNATH HELIPAD
Kedarnath is flanked with breathtaking snow -caped peaks, making it most beautiful and remote site among all for Chardham sites. We will arrive to Sersi Helipad from Gangotri,her after changing the chopper we will fly for Kedarnath Helipad.Temple distance is approx 500M from here and this distance can be cover in 15 Min approx.
Kedarnath doesn't have good hotel options to stay, once your Darshan will completed, We will return to Guptkashi and your stay will be arranged at Villa Aadhya
In the evening, we will visit ancient Triuginarayan or Kalimath Mandir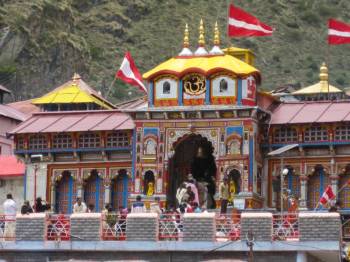 10:00 AM DEPARTURE SERSI HELIPAD, GUPTKASHI
11:00 AM ARRIVAL BADRINATH HELIPAD
Badrinath has an average elevation of 3,100 Meters. The temple is approximately 50 ft (15 m) tall with a small cupola on top, covered with a gold gilt roof.
According to legend Shankar discovered a black stone image of Lord Badrinarayan made of Saligram stone in the Alaknanda River.
Accommodation will be arranged in Sarovar Portico which is very close to temple. In the Evening, We will visit Mana Village which is near to religious site of Badrinath.
The Special Maha Abhishek Puja is the highlight of the entire yatra. It starts at 0400 AM and last for 2 hours.
We have arranged an opportunity to all our guest to sit inside the temple and cherish the darshan of the Shringar of the deity from close quarters.