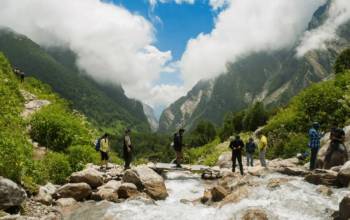 Distance: 13 km | Duration: 5-6 hours | Elevation: 9,600ft. / 2,926m
Start off the day with a hearty meal enjoying the amazing lush green mountainous views.
You will then be driven to a nearby town called Poolna from where you will start your trek to Ghangaria.
Walk the well-defined trail that passes through lush green forest and alongside the beautiful Lakshman Ganga River.
Take a moment to thank the volunteers who sweep the trail every day to keep it clutter-free and in the best condition possible.
Encounter the various dhabas on the way from where you can get some refreshments and refill your water bottles.
After completing the short gradual ascent of 9 Km you will reach Ghangaria, a small village encircled by mountains.
Check into your hotel, and set off to explore the beautiful surroundings.
Have a delicious dinner of local cuisines in Ghangharia and call-it-a-day.