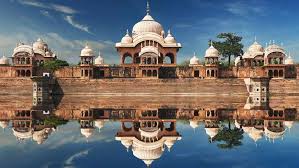          Being fairly close to Agra your journey for Mathura begins from here.It takes
         around couple of hours to reach.
         After reaching Mathura, you can start exploring the birth place of Lord
         Krishna.It is scattered with numerous temples having its own significance, the main temple in the town is the Dwarkadheesh temple where the devotees assemble in every festival.
         Sri Krishna Janma Bhumi is another site to visit, it is the place where Lord Krishna was born;
         similarly Lord Krishna's rest place after his triumph over the tyrant Kansa is the Vishram Ghat.
         Other points of attraction are, the Gita Mandir, Radha Kund and more. After a long day of
         sightseeing, the overnight stay at the hotel is arranged.