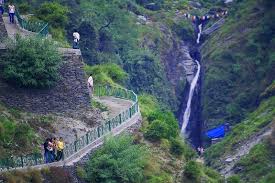 • Get started with a refreshing breakfast and get ready for the day to enjoy the gorgeousness of Mcleodganj.
• Head to Tibetan Museum that houses several exhibits and photographs highlighting the vivid history and culture of Tibet.
• Visit the waterfall and jump your way to Bhangsu Waterfall. Just 2 kilometers away from Mcleodganj, you can hire an autorickshaw or taxi to reach the village of Bhangsunath.
• Witness the splendid sight of the waterfall cascading down the rocks from about 30 feet. Located nearby is the Shiva Temple that makes this little village famous, and attracts hundreds of tourists.
• Your last stop is at TsechoklingGompa and take a dive into the religious spirit of the beautiful figurine and the transcending splendor of the Dhauladhars, in the shadow of which the monument is situated.
• By evening Get transferred to Dalhousie and rest Overnight after Dinner.